Cottage Food Rules
The Grow Montana Food Policy Coalition, of which AERO is a founding member, had a big win during the 2015 Montana Legislature with passage of House Bill 478, which, among other things, allows cottage food production in Montana – jams, jellies, baked goods, dry mixes, and other "not potentially hazardous" food products. You can read Grow Montana's comments on the bill here as well as below.
WHAT CAN YOU DO?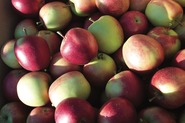 Submit your comments in person at a hearing on Thursday, August 20, 2015 at 1:30 p.m. in Room 107 of the Department of Public Health and Human Services Building, 111 North Sanders, Helena, MT.
Submit written comments by Thursday, August 27, 2015 at 5:00 p.m. to Kenneth Mordan, Department of Public Health and Human Services, Office of Legal Affairs, PO Box 4210, Helena, MT 59604 or via e-mail to

[email protected]

.